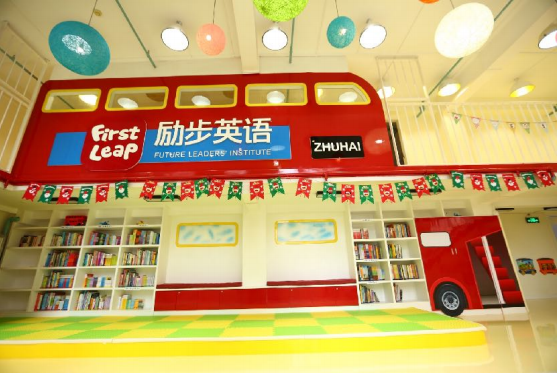 Zhuhai Firstleap is specialized in English Language Education for younger children. As the biggest English school in Zhuhai, Firstleap has over 1300 students and three  school branches: Xinxiangzhou, Qianshan and Tangjia. Established in 2014, First Leap Xinxiangzhou branch is the head office. It includes 11 classrooms, a reading area, reception, a rest area and offices for teachers and support staff. Totally we have nearly 90 colleagues, although it is place for work but we prefer to call this a big family.
Job Description
Class size: 10 – 14 students in one class.
Class duration: 40 minutes to 1 hour
Working Hours: 36 Hours (Wednesday – Sunday ); this includes office hours, training and teaching hours.
Curriculum: CLIL (Content Learning Integrated Language) formed curriculum, Chinese teachers provide standard English language classes, then you as a 'Foreign teacher' will provide English lessons based on other subjects to promote English comprehension and development. For example, you may deliver numeric vocabulary through a maths lesson or the vocabulary for different sports in a P.E themed lesson.Class materials and full training is provided.
Teaching Assistant provided: You will be assisted with a Chinese T.A for each class.
Age of students : 3 – 12 years old
Working hours
Wed. to Fri. 15:00-21:00
Sat. and Sun. 9:00-19:00
Mondays and Tuesdays off
Job Requirements
Holder of a University bachelor degree or above
Be a Native English speaker or of equivalent English speaking proficiency.
Salary and Benefits
Basic salary: 17000 RMB
KPI bonus: 0 to 3000 RMB (Key Performance Indicator is scored on work performance)
Demo sign up bonus: 60 RMB (for every sign up new student who takes your demo class.)
Overtime work: 200 RMB / session on Monday or Tuesday
Holiday
In addition to the below holidays Chinese national working holidays are also provided off.
Paid holiday:
1; 3 days
Year 2; 5 days
Year 3; 7 days
Year 4 and above; 10 days
Sick Leave
5 days (with doctor note)
Suggested career development
First Leap is one of the new up and coming school chains spreading rapidly across China. The company has a good reputation for support and training and this makes their positions ideal for new teachers wanting lots of support to guide them through their first classes.
Why does Noon Elite Recruitment recommend this school?
First Leap has a lot of positive reviews from our recent teachers. Just taking a look at our teachers review blog ChinaTEFLer.com the site is peppered with articles recommending First Leap as a great choice for starting your adventure. Zhuhai is an interesting city with a great climate and within easy access to the megacity of Hong Kong.
Apply
If you have already passed the stage 1 interview and are interested in this position, contact your Noon Elite agent to arrange an interview for you.
If you have not yet applied with us to Teach English in China you can Apply now